Take our cataract self test to familiarize yourself with the associated questions.
If you are nearing the age for cataract surgery and want a reliable vision correction solution advanced technology lens implants might be a good idea. Prior to having cataract surgery, you will need to determine what type of lens implants makes the most sense for your life. Having a thorough consultation with the cataract surgeons at Pacific Eye Institute will ensure that you are properly educated before making this important decision.
A new vision lifestyle alternative for people of the Inland Empire. Imagine having cataract surgery and being able to see at all distances without glasses? This is not the same cataract surgery that your grandparents had. Read more to see how we have helped so many people see better after cataract surgery.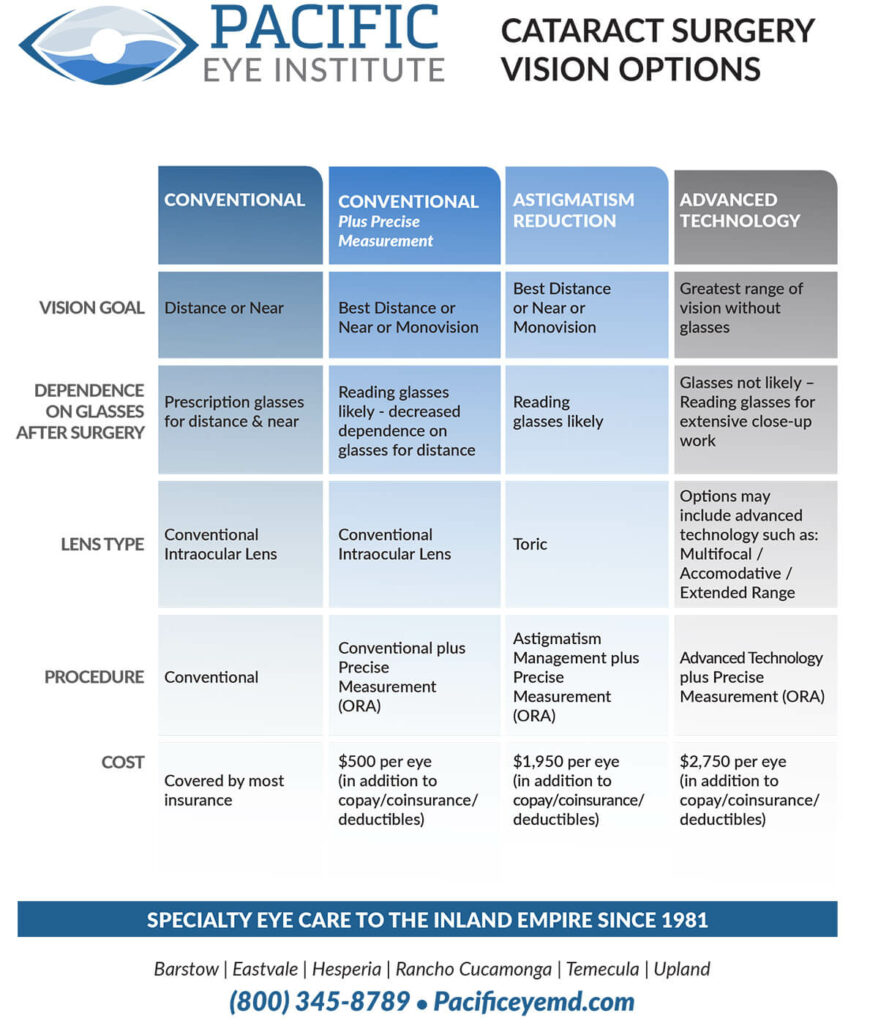 Things to think about before cataract surgery
Should I consider laser cataract surgery instead of traditional cataract surgery?
What type of lens implant would be best for me after cataract surgery, a monofocal, astigmatism correcting or full focus multifocal lens implant?
This Choice Will Last A Lifetime.
You will be using your new eyesight every waking moment for the rest of your life. Please take as much time as needed to consult with us as well as your family. Our surgeons, technicians and coordinators are available to help you make the best decision.
Selecting the right type of cataract surgery and implant for your eye is very important for your visual outcome. Special eye measurements will provide the data necessary for your surgeon to determine the implant power. Our cataract surgeons will personally meet with you to discuss if you are a candidate for our advanced technology lenses. Depending on eye history and current medical condition we may have a unique lens suggestion. Additionally, our precise measurement equipment known as ORA can also be used to fine tune the lens implant calculation.
Several years ago patients only had the option of monofocal lens implants, which enabled vision at one distance only. Now these new advanced technology lens implants and precise measurement combinations can offer a wide spectrum of vision including near, intermediate and far vision. Advanced technology lens implants have been helping people over 40 and cataract aged patients since they became viable option. Could you possibly imagine being able to read the newspaper, drive at night or play golf without the use of glasses. At Pacific Eye Institute enhanced, elite vision after cataract surgery is a possibility. As with any surgery, there are risks involved, and a certain level of reasonable expectations should be discussed with your cataract surgeon. It is important for patients to understand that the potential for side effects, such as glare, halos, blurred vision and light sensitivity, exists but these effects generally subside with time. Surgical specifics may be different for each individual and for some it may take take 4 to 6 weeks after surgery for vision to improve, but for many others it could improve quickly. There is no guarantee for a perfect outcome, however; many patients are very happy with their overall vision after surgery.
Advanced Technology Lens Implants
Astigmatism Correcting Lens Implants: Toric IOL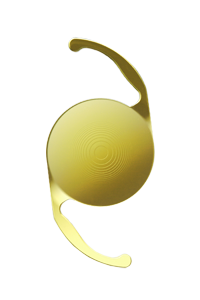 When you have astigmatism you have physical irregularities in the cornea or lens causing distortion of the image on the retina. This is a common visual condition and more than 3 million cases of astigmatism are treated every year. Astigmatism is a refractive error where people are unable to see objects clearly from a distance or up close. To individuals with uncorrected astigmatism, images may look blurry or shadowed. In years past, cataract surgery removed the cataract, but a patient with high astigmatism still required glasses for near and distance vision.
Astigmatism correcting lens implants are also known as toric lens implants. A toric lens implant is not the only method of astigmatism correction so consult a doctor about the current treatment possibilities. Astigmatism can be corrected with glasses, contact lenses, corneal relaxing incisions, laser vision correction, and special implant lenses. If a you have astigmatism and have aspirations to be glasses free after surgery the toric lens implant is a good option. Toric IOL technology uses biocompatible materials that have been successfully used in contact lenses and proven safe for the eye. There is an additional cost for this lens implant.
If you are seeking Astigmatism correction in Southern California or the Inland Empire area, please feel free to contact us to schedule an eye exam.
Full Range Focus Lens Implants: Multifocal & Multifocal Toric
Full range focus lens implants also known as multifocal lens implants are now also available with or without astigmatism correction. Even if you required bi-focal glasses previous to cataract surgery, these implants can help you to see at all distances. That's correct, you will be able to read as well as see in the distance. Discuss your options with Pacific Eye Institute today!
If you have cataracts, astigmatism, and trouble seeing things up close, a multifocal toric lens could help you to see clearer across all distances.- Alcon Technologies
Common questions about lens implants
Lens Implants Self-Evaluation