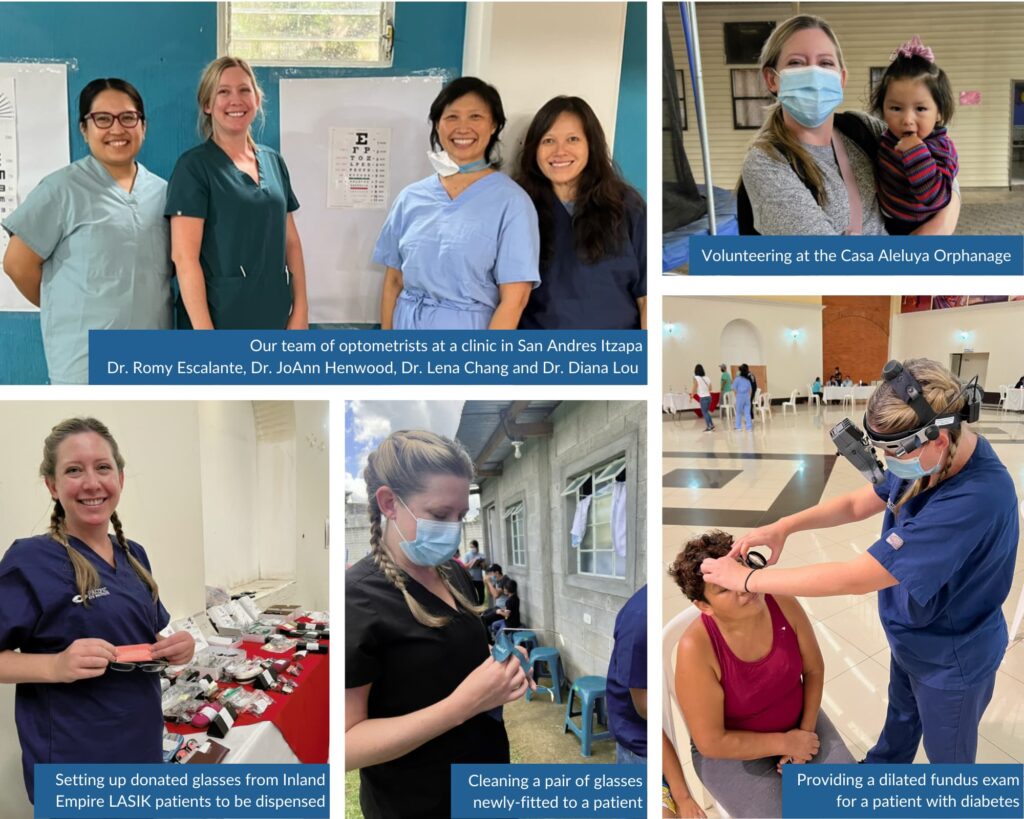 Over the span of only three days, Dr. JoAnn Henwood and a team of 11 diagnosed and treated approximately 600 patients in Guatemala City,
many of whom had never seen an eye doctor in their lifetime.
On Friday, September 2, 2022 we landed in Guatemala City, Guatemala. Our group included three ophthalmologists, four optometrists, one pharmacist, two medical students and two dedicated, mission-trip enthusiasts. The people of Guatemala were very warm and welcoming, all very grateful to meet our group and tell their stories.
I joined the mission trip to examine and help as many patients as possible. It was such a wonderful experience, and I am so grateful to have been able to participate in this important cause. A little known fact is that43% of people who are blind worldwide are blind simply due to a need for eyeglasses. Every effort counts.
What a day looked like
Each day, we woke up and had breakfast at the mission center where we were staying. We took a 14-passenger van to the clinic site for the day and saw patients from 10 a.m. to 5 p.m. We took a short working lunch where we were provided with delicious local cuisine – lots of delicious, handmade tortillas! Following clinic, we would grab dinner at a local restaurant and head to bed early — exhausted!
How we were able to help
Prior to the trip, two team members from our sister practice Inland Eye LASIK helped me neutralize and prepare 75 pairs of glasses which were donated by patients who no longer needed them after having LASIK surgery. I took these glasses with me to Guatemala and combined with another optometrists' donation, we were able to bring hundreds more as well to dispense to patients with similar refractive errors!
The patients knew we were coming from local radio ads as well as signage placed near three different city hall buildings before we arrived. Whether we worked at one of two city halls, or a local school, they were ready for us.
Almost all the patients had complaints of dry, irritated eyes and were coming to seek advice for treatment. The two medical students who joined us actually did a research study while we were there to quantify a link between indoor cooking without a chimney (very common in Guatemala) and dry eye disease.
Many people had diabetes and were in need of a diabetic eye exam. Some of the younger patients needed glasses to correct their distance vision. Other patients were 45-years-old or older and badly in need of reading glasses.
We met a 25-year-old mother of three who traveled by bus two hours to be seen at our clinic for glasses. We also examined a 64-year-old woman who lost eyesight in her left eye following abuse from her previous husband.
The strength, humility and perseverance of our patients was inspiring!
What I brought back
My biggest takeaway from this trip was that even a small bit of help goes a long way. One woman cried when we gave her a simple pair of over-the-counter reading glasses (which can be purchased at a 99 cent store in the U.S.). Others were extremely grateful just to have their eyes examined and rest with the peace of mind knowing their eyes were healthy.
When examining patients in our Pacific Eye Institute offices, I often hope that a patient with reduced vision has a cataract. In the hands of our surgeons, this is a relatively easy fix that will improve the patient's vision and quality of life. While in Guatemala, however, I would hope that a patient only needed glasses. Since we didn't have access to a surgical center, we were unable to adequately help patients who had cataracts. In these instances, many patients don't have the money or health insurance to have the cataract removed and will eventually lose their
vision.
Being back to work at Pacific Eye Institute, I am endlessly grateful for the services we are able to provide our patients in a relatively quick and affordable manner.
---