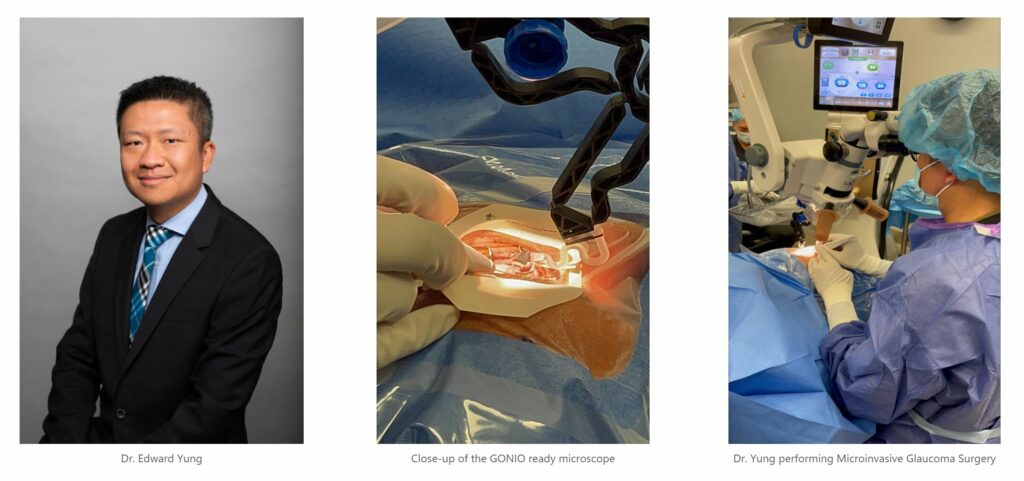 Dr. Edward Yung on Advancing MIGS in Glaucoma Surgery:
Two hands available, and many more possibilities.
When performing Microinvasive Glaucoma Surgery (MIGS), surgeons previously had to hold their microscope in one hand and accomplish the surgery with only the other. That has now changed and one of our very own Pacific Eye Institute surgeons has helped lead the way!
Just this May, Dr. Edward Yung became the first doctor in the United States to perform an angle surgery with the GONIO ready® system after its official launch at the American Society of Cataract and Refractive Surgery conference in San Diego in 2023.
"It's just an honor to be the earliest to utilize this innovative technology," Dr. Yung said, "Ophthalmology is a rapidly advancing field and I'm grateful be among the pioneers to lead the way for implementing innovation for the field."

– Dr. Edward Yung
The GONIO ready® is an operating microscope mounted on an intraoperative-gonioscopy lens used to visualize the nasal angle structures during angle surgery. This allows for hands-free visualization of the angle structures during minimally-invasive glaucoma surgery, allowing a free hand to stabilize the patient's head for better control and the possibility of true bimanual angle surgery.
Dr. Yung explained how performing surgery with the GONIO ready® system improves the safety and visualization for angle surgery: Angle-based surgery for glaucoma has so far been dependent on utilizing one hand to perform the surgery, with the non-dominant hand being utilized for holding the gonio lens to visualize the angle.Utilizing this system frees up your hand to help with head positioning, making visualization better and reduces the risk of adverse events from unanticipated patient movements."
Dr. Yung is confident of the impact this technology will have of angle surgery. Visualization of the angle is the most important aspect while this type of surgery and is often the most difficult part when starting out with these types of cases. Hence, utilizing such a system will help people early on in their experience with angle-based surgery to improve their surgical experience and outcomes. Eventually, this can open up the opportunity for two-handed procedures currently not possible in the angle due to previous limitations with visualization.
Overall, the GONIO ready® is a very efficient and easy-to-use system for visualizing the angle, thus allowing for true, two-handed surgery in the angle. Dr. Yung appreciates using this technology for cases as it improves patients' safety. 
Check out Dr. Yung performing the GONIO ready® surgery in the video on the left, or follow his Instagram account, @that_eye_doc, for this and other interesting cases related to eye care and surgery.  

---