At Pacific Eye Institute, our lens consultants assist cataract patients with essential information and preparation for cataract surgery. Our highly skilled consultants ensure patients receive the most comprehensive and personalized information and preparation for their cataract surgery. Trust us to guide you through every step of the way.
Deciding to get cataract surgery is a significant step towards improving one's vision, and while there are great options available to personalize each person's vision, the choices can be overwhelming. Undergoing cataract surgery can trigger many emotions, such as anxiety and fear. As providers explain the process, patients may be overrun with questions.
FAQs about Cataract Surgery
Is the surgery procedure going to be painful?
Is the surgery going to be covered by my insurance?
How soon can I see after cataract surgery?
How long does the intraocular lens last?
How do I know what lens is right for me?
Will my Cataract come back?
Do you have a payment plan?
How soon can I go back to my daily activities?
Will my cataract come back?
These are just a few of the most asked questions about Cataract procedures. With so much at stake, Pacific Eye Institute has dedicated professional consultants to thoughtfully review your choices and answer all the questions you may have about the surgery.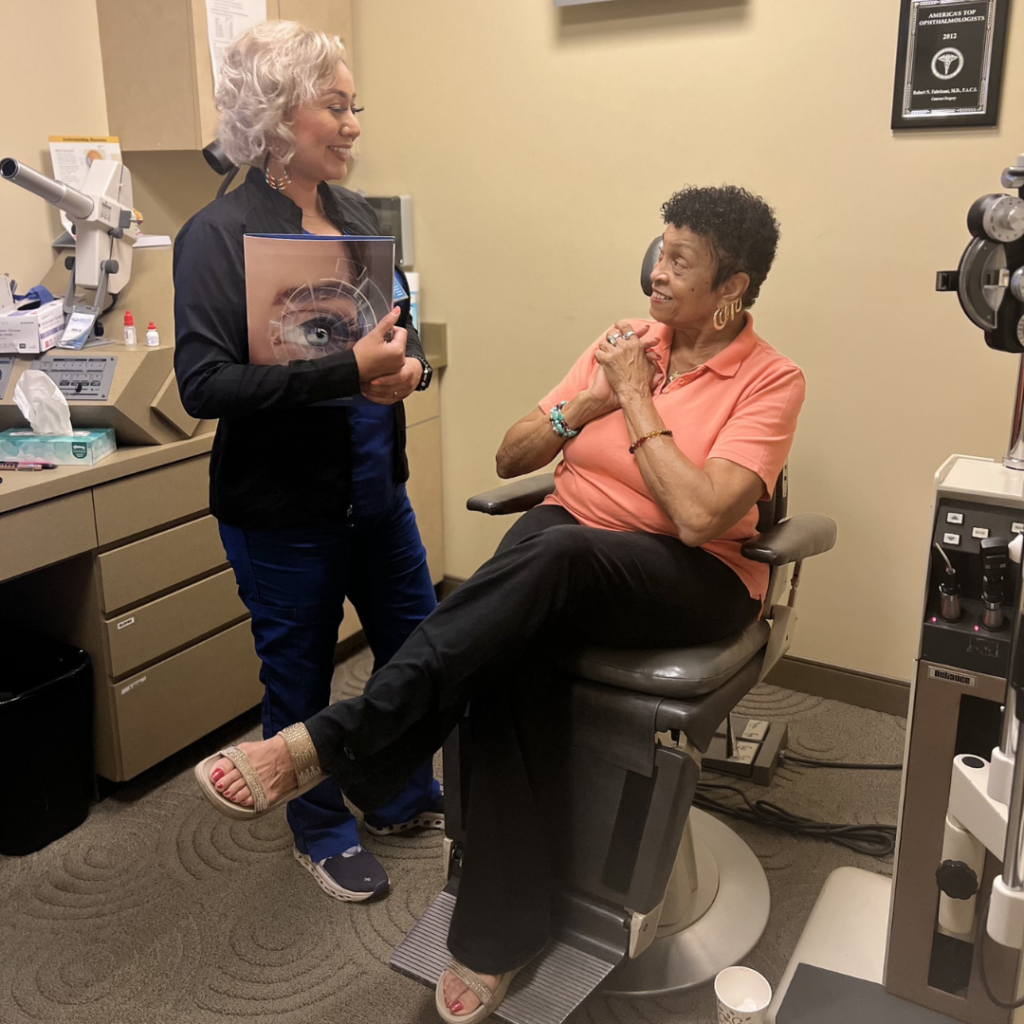 Joanna Perez, a lens consultant at Pacific Eye Institute, and a patient
Supporting Our Patients During the Cataract Surgery Process
At Pacific Eye Institute, we encourage patients to explore options and make informed decisions. We prioritize patient education to ensure they can make the option that fits their lifestyle best. As our team of experts is dedicated to guiding patients through the entire process, when you visit us for a consultation, you will have the opportunity to meet with one of our excellent doctors and our consultants, Joanna Perez or Kelly Clark. They will be at the surgery procedure and provide reassurance about the process. If you have a question or concern at any time, week, or weekend, you have direct access to call them. Our consultants have proven invaluable in putting patients' nerves at ease. They work closely with our doctors and have a broad understanding of every department. This benefits patients greatly as they can rely on our consultants to answer their questions on time.
Our lens consultants aim to provide our patients with knowledge and comfort, ensuring they leave our clinic feeling at ease and trusting that they will be well taken care of during surgical procedures. Building a strong bond and creating trust with our patients is our top priority. They will give an overview of the benefits and possible risks of the procedure, likely costs, and payment options, such as Care Credit.
Assist with prescription refills, calls, and lens-type discussions. In the variety of lens options, at Pacific Eye Institute, we offer Monofocal, Multifocal, LAL, Toric, and ORA Systems. Premium IOLs are highly requested lenses, but not all patients are suitable for this type of lens. One of our doctors will perform an examination and review test results to determine whether a patient is ready for surgery and a good candidate for a premium IOL. Our consultants will help guide patients through the available options. Apart from patient consulting, they assist with the surgery process and doctor scheduling and verify that patients have received all communications and instructions.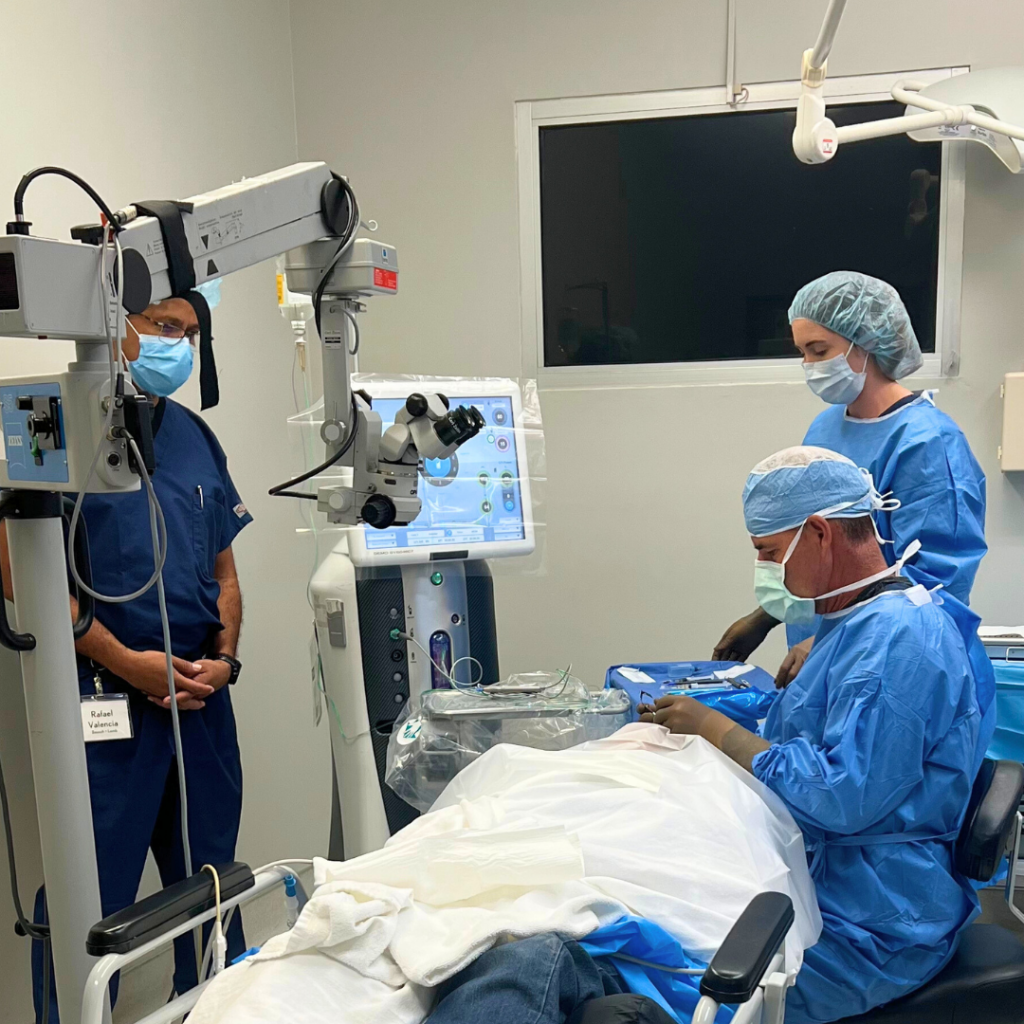 Dr. Richmond Roeske and his surgical team
Determining Which Treatment is Right for You
Cataract surgery can significantly improve your vision. Depending on the type of Intraocular Lens (IOL) you choose, you may become less dependent on glasses or contact lenses after the surgery. If you opt for a Premium IOL, such as a Multifocal or accommodating lens, your dependency on glasses will likely decrease. However, with a Monofocal IOL, you are more likely to need glasses to achieve your desired corrective vision, although your overall vision will improve. You can rest easy knowing that whichever lens you choose, you'll be on the path to better vision. With our lens consultants, you can trust us to provide the right solution for you and enjoy the peace of mind that comes with seeing the world through a clear vision.
We aim to establish ourselves as the premier choice for all your eye-related healthcare needs. Our experience has taught us that patients prioritize honesty and accessibility regarding their medical care. By providing an honest opinion and having a consultant available to answer their questions, we can ensure they feel supported and informed throughout the process as we help them achieve their desired vision and lifestyle.
---